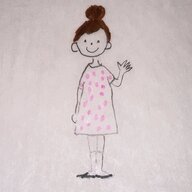 Joined

Feb 2, 2016
Messages

8,132
Fine hair, it an be a PIA! Well I recently cut 8 inches off so I could donate it, I had to cut it shorter than I really wanted to reach the minimum length. Up until now I've just been wearing it up but now I don't have that option so I need some help. I'm going to a baby shower and church Sunday so I need to do my hair so it will get through the whole day and not go flat. It also seams oiler than normal even though I haven't changed my shampoo or conditioner.
Anyone have a product they love?
I don't normally put anything in my hair but I'll need something for Sunday.
Here is a pic of the new hair, this was the day it was cut and styled, I've gotten it to look close but I'm open to any and all suggestions on what to do with it!