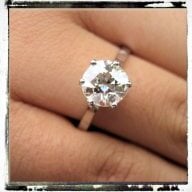 Joined

Apr 9, 2007
Messages

1,938
This morning I woke up to my dog being sick all over the place. From both ends. So I cleaned him up and gave him some water, which he drank up. He stopped. He is acting normal-chasing the cat, wagging his tail, snuggling, etc. I took him to the vet and dropped him off. I told them he had a new kind of bone (a ham bone from a pet company) and I just figured it upset his stomach.

The vet tech said they will probably want to do xrays ($300) to make sure the bone isn''t stuck somewhere. Does this sound right? I mean, he''s had the bone since Saturday and ate REALLY vigorously yesterday, drank his water this morning and stopped being sick for over an hour by the time we got to the vet. If he weren''t acting normal or this had gone on longer, I would totally understand but I feel like it may be overkill. I love him to death but I don''t want to run unnecessary and expensive tests.

Anyone have any experience with this/advice?

Thanks!