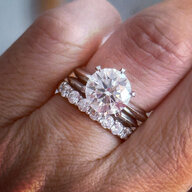 Joined

Jan 14, 2003
Messages

2,787
hi,
I am thinking of purchasing a radiant cut diamond-
D VS1 (crystal, needle, natural, extra facet)
1.37 Carats
Depth- 59.8
Table- 67
Measurements- 6.69x6.59x3.94
NO culet or fluorescence
Girdle thin to medium
Polish and symmetry are good
Purchase price- $7529
I am happy with the color, although a E, F, G or H would have been fine. I prefer a square, rather than rectangular stone, so the measurements are fine too.
What worries me are the naturals on the stone. There are four of them and although I posted an earlier note asking what they were, it is still bothering me.
I did a search for other radiants and it is extremely hard to find square ones. The only other radiant that I found that was squarish was an H VS1 (Feather, Needle), 1.51 Carat for $7008, Measurements were 6.45x6.44x3.95.Depth- 62.5, Table - 65, good polish and symmetry, no fluor. or culet.
So, my question is, should I just go ahead and purchase the first stone, or stick to the H colored one (without naturals)?
Please help!
Thanks in advance!