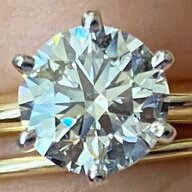 Joined

Jun 9, 2011
Messages

114
I'm putting together a pair of diamond stud earrings and have two stones on hold for the next 24 hours. These weren't preselected as a "set" so I wanted to get some advice from all of you experts out there. I'm particularly concerned that they look the same size when held side by side and that they will sparkle equally.

Both stones are ideal AGS 000, H&A, I color, and VS1. These are the measurements:

4.94 X 4.97 x 3.06, table 55.3, depth 61.8, ideal AGS, H&A, I color, VS1, 1.8 HCA
4.89 x 4.93 x 3.04, table 56.3, depth 61.9, ideal AGS, H&A, I coloe, VS1, 1.1 HCA

Also, I generally prefer yellow gold settings, but I'm wondering if that will make the I color too strong. I like a little warmth but usually prefer G or H. All advice is really appreciated because this is my first time to order diamonds online.