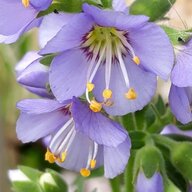 Joined

Feb 24, 2016
Messages

40
I have a budget of 3k and I want a five stone diamond ring. I contacted
IDJ
and they gave me a quote of $2600 for a 1.25 tcw, $3300 for 1.5 tcw, or $3750 for a graduated 1.5 tcw with .5, .3s, .15s. I'm a size 5 btw.
This is all with F/G stones (in 14k.) I asked about using warmer stones (h/I) but it seems they don't do that. I'd rather have slightly warm stones and pay less/get a higher carat weight ... Especially as I've had a K colored antique cushion and thought the slightly warm tint was lovely.
Would
James Allen
come in less since I could pick out lower colored stones myself? TBH the quotes from
IDJ
do seem really fair but I do love bargain hunting. But I know IDK ensures "pricescope quality" which is important.
Secondly, I think I would prefer graduated - is it worth the extra cost? I've gone through the entire 5 stone ring thread and I love them all. So it's really hard to decide. Has anyone else made this decision and what factors did you consider?
Thanks - sorry I'm a little all over the place, I'm on mobile.