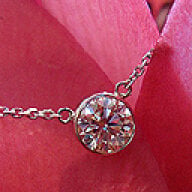 Joined

Oct 30, 2002
Messages

31,003
We are considering the following diamonds, from a local 'connection' very reputable jeweler that we had originally met through my best friend (they are her family's jeweler and she worked there in HS). We have history as well with Jeff, but wanted to wait until we had more research under our belt before calling him. So call him we did, and I told him what we had narrowed it down to (the 1.27 E SI1 that I asked advice on this forum earlier this week), and asked what he could do to compete with that.
He brought in two diamonds, which we viewed today. They are both beautiful and both score under 2.0 on the HCA. They are both 1.23/1.24, but one looks significantly larger, because it has a diameter more suited to a 1.4-1.5 carat diamond. It was very interesting, the table was 62%. In my searches, I haven't come across a diamond with such a large table--and immediately in my mind I struck this diamond from the 'serious' running. However, I was wrong. The diamond looks bigger due to the spread, and sparkles very well. BUT when set next to the regular 1.24 diamond, they both looked gorgeous, but the larger diameter one looked a little 'darker' inside of the diamond (don't know if this might be because its a G color and the other one was an E, so very white?).
Anyway enough babbling--here's the heart of the post. I ran them both through the HCA with their crown and pav angles, and was pleasantly surprised to see that both scored under 2.0, with the regular 1.24 scoring 1.0 TIC and the larger diameter one scoring 1.4-1.7 BIC(using both angles and % I got the range). My questions are:
1- What could the darker look inside of the large diam diamond be? Or is that just my imagination while comparing them both together side by side?
2- What's the difference between 'fiery' and 'brilliant' cuts. I ready the HCA comments but they didn't really settle the matter for me. Is BIC more sparkly than a TIC?
3- Should I worry about the large table at all? The depth is 56.9 and the table is 62%. Between the two diamonds, the regular one looked slightly more sparkly, but the large diam of the other one paired with its very good sparkle and great pricing makes it more desirable.
Here are the two diamonds info for your FYI. I also like that the larger diam one is a VS1 and extremely clean, because while the other one is very sparkly, it has a noticeable large dark crystal (though this can be set under a prong).
#1:
6.81x6.88x4.30mm
GIA cert
1.24 carat, E, SI1
depth: 62.8%
table: 56%
pav angle: 40.6
crown angle: 35.3
girdle: medium to slightly thick
culet: non
polish: VG
sym: G
fluor: none
HCA score: 0.9-1.0 TIC
price: $7200
#2:
7.15x7.19x4.08
GIA cert
1.23 carat, G, VS1
depth: 56.9%
table: 62%
pav angle: 41.1
crown angle: 29.9
girdle: thin to medium
culet: none
polish: VG
sym: G
fluor: none
HCA: 1.4-1.7 BIC
price: $7200
There is also a 3rd diamond we are considering, but its an online purchase. It sounds perfect ,but we have not seen it. Here are basic specs (dont have them all with me)
1.27 carat, E, SI1
AGS 000
polish: ideal
cut: ideal
sym: ideal
HCA score: 0.4 TIC
price: $7200
Sooooo I guess..knowing all of this..which to choose? My local jeweler can only keep these another day or two before returning them, so we need to make decision soon--which is fine. We are leaning towards the larger diameter one for a few reasons. We like the look of it (e.g. spread is excellent), and the color is still very good at 'G' while clarity is excellent. The price is EXCELLENT, very similar to the lowest prices found online at a reputable site, and we know this jeweler--we can continue to build a relationship with him by making the purchase. Also there is the opportunity for a trade-in later if we want to. However, the online diamond's 'paper' certs look stellar and the HCA score is superb. But we can't see it before we buy it--though we can have it sent to an independent appraiser before purchasing.
So if the experts could please weigh in, it would be great. I'm a little concerned about the slightly darker appearance of the larger diam diamond, but overall we love that one mostly because of its visual play with size.

Is this good? Thoughts?
Thanks, I appreciate any comments. This is tough!
Mara