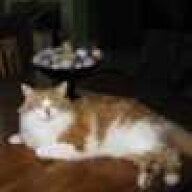 Joined

Jul 11, 2003
Messages

2,328
I know there are a lot of cat lovers here and I need some advice. Four years ago we had three cats-Ivan and Bunny, male and female littermates who really didn't like each other. (Ivan was the cranky one). We also had Margaret who was about the same age. Margaret never interacted with the other cats-she's a people-only cat. When we had to put Bunny down we adopted Winston from the shelter as a kitten. He and Ivan immediately got on like a house on fire but they would give Margaret grief by chasing her.

Margaret is 15 now and has had some health issues. We recently put Ivan down as he had bladder cancer. Winston is 4 and very playful and he seems lonely without his Ivan. He's still chasing Margaret and I'm thinking he needs a playmate. All the articles I read say to adopt a kitten, but which sex? So before I go to the shelter does anyone have an opinion?

By the way, that's Winston in my avatar. He is extremely lovey and attached to me.