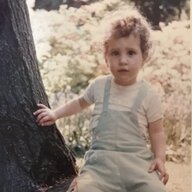 Joined

Jul 8, 2011
Messages

1,574
@Rubies-R-Me

-- your emerald cut eternity is in my inspiration file too! Its stunning! (Goals!)

What size are the individual diamonds?
Awww.. thanks!!! Each stone is .80 for a total of 11.20 carats.
It was total luck and good timing that I found this ring. A jeweler (who has now since closed) that I used to buy a lot of things from had a customer with a size 4 finger who had the ring made and wanted to sell it. We negotiated back and forth and back and forth for about 3 months.. I came up a little.. she came down a little.. she came down a little more.. I came up a little more.. and finally with the jeweler as a middleman we came met at a place that was good for all of us.
I remember the first time I tried it on and it fit perfectly and the jeweler exclaimed.. "Cinderella!"