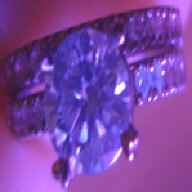 Joined

Apr 12, 2008
Messages

137
I''m looking for around a 1/2 carat diamond for a necklace. I want lower color/clarity so I can get a bigger size, but want a fantastic cut, of course. I also need fluorescence
Round Brilliant
Measurements: 5.26 - 5.30 x 3.14 mm
Carat Weight: 0.53 carat
Color Grade: K
Clarity Grade: SI1
Cut Grade: Excellent
Proportions:
Depth: 59.5%
Table: 59%
Crown Angle: 32.5°
Crown Height: 13.0%
Pavilion Angle: 41.0°
Pavilion Depth: 43.5%
Star length: 50%
Lower Half: 80%
Girdle: Medium, Faceted
Culet: None
Finish:
Polish: Excellent
Symmetry: Excellent
Fluorescence: Medium Blue
I plugged the diamond I want into the cut advisor and it got a 1.1
Light Return Excellent
Fire Excellent
Scintillation Very Good
Spread or diameter for weight Excellent
I''m not so sure I want an ideal cut diamond because from what I understand, they are small for their size.
Is there anything I''m missing? This one looks good to me! I''m ready to buy but would like opinions!
THank you so much!