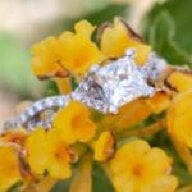 Joined

Mar 25, 2011
Messages

247
Hello ladies! I am no longer a LIW, but I was hoping I could get your advice since I'm sure we've all played this scenario out in our minds. (warning! long-ish post!)
I am obsessed with my setting and love my diamond-- they're very sparkly, just the right size, I can't find any inclusions for the life of me --but I can detect the colour of my diamond in some lighting, especially because the setting allows full view of the diamond from all four sides. It is a 0.73 ct VVS2 H-color princess, graded by a GIA-trained jeweler but not an actual lab (another reason I was a little hessitant about it). It took FH a while to finally see the colour until one day when he noticed it in our house and asked if I was happy with it (to which I replied that I noticed the colour, but it was only in certain lighting, and of course I was happy!).
I'd given up thinking about it and finally learned to embrace the little colour as something that is characteristic of my diamond when I found this...
http://www.bluenile.com/princess-diamond-1-carat-or-less-very-good-cut-e-color-vvs2-clarity_LD02038972
I know FH paid about the same for my current ungraded diamond (~3k), and here's the colour improvement I want, a little bigger (5x5mm!) with a GIA report.
I'm hessitant to bring it up to him because 1. we have a great relationship with our jeweler right now and I feel like returning the diamond to them and having them send it out to reset it with one that we bought would be... weird? Maybe I'm just being too personal about it. and 2. he's so relieved that I love my ring, I almost want to let it go and not think about it, and appreciate that this is the diamond he hand-picked for me. After all, the grass is always greener, right?
I don't know what to do!
I really do love my ring and as I'm typing here in the library, it looks perfectly white and I know that I can "live" with it (of course!). I don't want to be ungrateful, but it's hard to decide whether to show him this
blue nile
diamond or just let it go and enjoy being enfianced! Help!