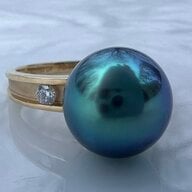 Joined

Jan 14, 2004
Messages

1,432
Recently I bought a strand of Natural White Hanadama from PP, and has been very much in love with it. "They are so beautiful that they look fake," says my girlfriend.
The certificate says the nacre thickness is 0.5mm. I literally stared at a ruler for a while to understand what does that entail.
That started my research on Akoya durability and I learned there is not much to worry about wearing my Akoya, as long as I am careful about it.
Then I came across this other question: are natural white Hanadama bleached?
Clearly they are not pinked, but according to a few reliable sources (including an article on kojimapearl.com), almost all Akoya pearls are bleached to look white.
The certificate of my natural white says "No evidence of color addition is recognized". In an old post on the other forum, Jeremy (PP's owner) said that "natural white Hanadama are not bleached, not pinked".
(I finally figured out what is the "other pearl forum" that everyone talked about, and learned quit a bit there. )
I am confused. My strand is white, very white (see picture below) and every pearl has the same color, which leads me to believe they were bleached.
Can some experts please help to clear the myth?