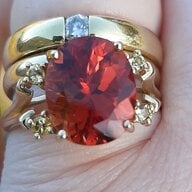 Joined

Jan 3, 2020
Messages

325
Hi everyone,
Newbie to the forum here and my first list so please be gentle! I am a gemstone collector and usually buy certified stones but decided to take a punt on this ring. It was mixed in with other vintage and antique items. It is hallmarked 925 and sold as green garnet.
I was drawn to the dispersion. It is hard to capture the colour which is a yellowish green with a colour shift to more green in natural daylight. It is super sparkly with reddish flashes.
Under x10 loupe the cutting seems a good quality and facet junctions are sharp. There are minimal inclusions (no bubbles).
I am aware I will need to get it appraised to know for sure but could it be Mali garnet? It doesn't appear to be peridot, chrome tourmaline or chrome diopside. It is probably unlikely to be demantoid. It could also be a synthetic.I
Thanks in advance for your thoughts!