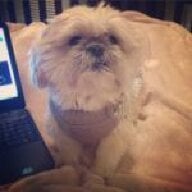 Joined

Jan 1, 2011
Messages

1,389
Sigh, you never think it will happen to you! The OEC/transitional diamond in my engagement ring has chipped. I have no idea how it happened, but I recently noticed it. I thought it was dirty at first, but my jeweler has confirmed that it is indeed a chip, and a sizable one at that. It seems to have really changed the appearance of the diamond and the facet pattern. I can almost see the chip reflecting in other parts of the stone,making it appear dirty (see photos attached). This is only up close. I think the chip is really only noticeable to me. I had to point it out to my husband multiple times and my friends - they couldn't find it.
My ring is not insured right now (I know, I know), but I doubt insurance would have covered that anyway. Anyone else deal with this? What should I do?
ETA: Chip is by the bottom left prong.