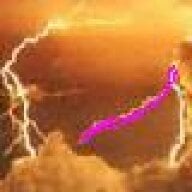 Joined

Nov 1, 2003
Messages

23,295
Several people have asked to see pictures of it so she had a friend snap some.
Its aprox. .23ct I si1.
I bought it on the secondary market and had the head of the original ring cut off and put on a 14k gold band. Size 10.
The diamond was eye selected by me before I knew about pricescope.
I picked it over some that were slightly bigger because out of the dozen or so I looked at it lighted up in a blaze of light a lot more than any diamond I compared it to in that range across a variety of lighting conditions.
When I told her where I bought the diamond she asked if I had saved money doing it that way and when I said yes she said.
"kewl I love it its perfect!"
She also loves the idea that I had the ring built for her.
I think she really appreciates the work I put into it more than just picking one off the shelf.
I could go one for days talking about my gal but I wont bore you with more :}
You will have to wait for pictures of it with the wedding band because they are 1700 miles apart at the moment.