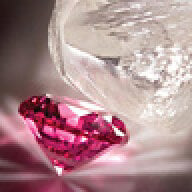 Joined

Oct 17, 2008
Messages

1,069
So I have been gathering materials ready to make our wedding invitation cards. I have ALMOST everything I need. Hopefully tomorrow I will have the rest of the things I need so tonight I had a go at making a prototype card to see how it is going to look.
This is only a rough job so please excuse the creases and uneven lines and messy bow etc. Once I get down to business properly it will be done accurately.
The basic components are:
-White pearlescent card blanks
-Red satin ribbon
-Black organza ribbon with silver edging
-Red and black pearlescent card cut to measure (the following example is made using matt card though...waiting on the pearlescent to arrive tomorrow)
-Ready made "wedding invitation" tags
-Assorted red and clear stick on diamantes
-Red diamante hearts
-White card inserts to print the actual invitation details on. (obv not visible in pic)
Presenting to you...our wedding invitation prototype. What do you all think? Please bear in mind this is a fairly low key UK wedding, so we're not going over the top formal with the invitations etc.