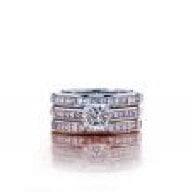 Joined

Nov 23, 2008
Messages

1,442
This purchase is totally blamed on Luvmyhalo! I bought the same stacker she has here:
https://www.pricescope.com/community/threads/new-stacking-eternity-band-from-id-jewelry-im-in-luurve.104627/
I LOVE it! It''s so delicate. However, being my first stacker I''m so paranoid - I can''t help but put finger prints all over it. There is no where to safely touch it! I''m constantly turning it around worried that a stone is going to get knocked out! It''s so weird to have stones all the way around!
Yuketiel at
ID Jewelry
was fabulous to deal with! It took 5 weeks for the ring to come in - just like he said. I was anxiously waiting for it!
It is to wear on my right hand - so no pics with the ering. But all pics on the left hand of course. There really is no way to take pics of something on your right hand is there?
There is one thing that I need help with. I''m sure some of you are capable of providing this help. . . . I need another stacker. . . or two. . . to go with it!!!!
I''m almost embarassed to post pics cause Luvmyhalo took great ones! It''s freezing cold outside today and crazy windy so I couldn''t be creative. Sorry. But here are a few.