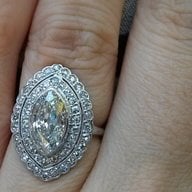 Joined

Jun 13, 2005
Messages

1,046
I admired her character's long strand for a few years... and somehow finally decided now was the right time to re-create it.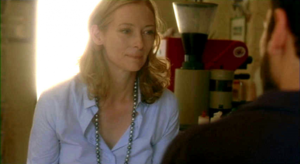 My strand is 31 inches, made from 71 10mm round & near-round multi-color Tahitians (AA/AA+).
Initially, I contacted several PS vendors, but nobody had enough stock on-hand for the project, and I wasn't sure how long to wait.
So then I decided to expand my investigations to other vendors and to etsy. The latter was ultimately where I found the source of my pearls. It's Jacques de Rham from ThePearlHouse on etsy. In doing my research, I saw that a few others here here have purchased from him as well.
So the difference in using a wholesaler is that you buy the pearls in lots... say 20 of this kind, 30 of that kind, etc. You don't choose individual pearls. So I looked at my inspiration pic and decided I needed a mostly medium mix, with some lights and some darks. I ultimately ordered 100 pearls, to have enough for a matching bracelet (not shown, still needs to be strung), and a small buffer in case I didn't like a few particular pearls (which turned out to be the case). Jacques was great to work with throughout.
One benefit with using a wholesaler is that you pay less than using a retailer. But again, the service is different and you cannot choose individual pearls. So you have to have some amount of faith in the pearls you will get.
Once I received them, I chose the order to put them in, temporarily strung them, and found a professional knotter/stringer in my area. And here is the finished result!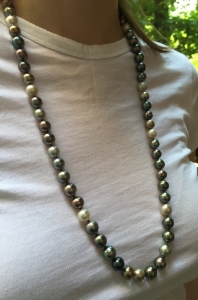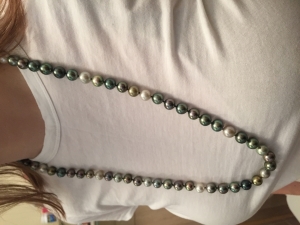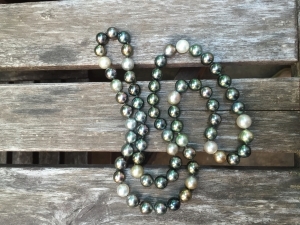 My favorite pearl is one lovely light green pistatio one. There are also some pretty cherry ones, and various greens and blues. One bronze-y one too. I can see how Tahitians can be addictive...
At some point, I'd like to find an antique diamond clasp for the strand, but I know that may take awhile. So I just had it strung as an endless rope for now.
BTW, I have many long necklaces made of organic materials (coral, lapis, etc) and find them all comfortable enough to wear all day, etc. These are all 10mm beads, my personal favorite. I could see where maybe larger beads could be an issue (I have 14mm quartz, that one *is* too heavy).
If anyone has questions, let me know. Enjoy!
Anne