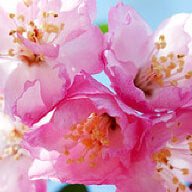 Joined

Nov 12, 2006
Messages

1,084
My FI did THE sweetest thing for today''s celebration! He came home with two bouquets of flowers about which at first, not being able to see them as they were covered in thier pretty flower celophane stuff, I was confused and thought perhaps he brought home a bouquet for the cats as there was a large one and a small one.

Turns out, this man, whose pretty brown eyes literally become unfocused when I launch into a flower-for-our-wedding talk, has been LISTENING all along; he bought me all of the flowers I''ve been obsessed with for my bouquet (and his bout) but that I hadn''t really seen in person.
He sort of arranged them in a large bouquet to symbolize my bouquet: large callas, hot purple cymbids, rich purple irises, and sweet purple hyacinths!!!!! And he did the same set of flowers in a smaller bouquet (perhaps like a bm bouquet?) but they were shorter and he put in mini callas instead!!!!




To top it off, he also brought home a little gerbera daisy plant!! I am beyond thrilled at his thoughtfullness and sweetness and am more than impressed to know that this man retained some SERIOUS flower talk afterall!!!