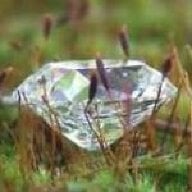 Joined

Jun 29, 2006
Messages

11,071
It's been over 15 years since the proposal... and I've learned a lot about my husband, or men in general, since then! lol Sometimes they can be so sweetly idiotic!
Because my hubtobe was in the military and living across the states, we talked about an engagement but he a) insisted on doing it in person (great!) and b) wanted to know whether or not he should spend the money to fly out to do it, essentially asking what my answer was going to be in his all-too-endeering and practical way LOL I told him to just get his butt out there and see what happens and he did
He asked me if I'd want an engagment ring and I told him, "Honey, you can't afford what I want." and we agreed that it would be better to save the money. First disappointment... when you secretly hope your new husband gets you even a chip of a rock to say I love you let's commemorate this, and he doesn't, because you told him not to. First lesson - be more direct! LOL! But girls, it's time now - yay! Hence my discovery of pricescope!
So he flies out and we spend all day friday and saturday and sunday going to the most amazingi places, walking across the golden gate bridge, going to the beach, to see the statue of David in SF, doing things around my apt in san jose... just doing all of these amazing things... (why why why do men wait until the last moment before they pop the question?? dorks!) and so it's the afternoon on the last full day and we're going to head back to my house, maybe have a romantic evening, I'm thinking... and he says, hey, let's go to golden gate park and look at the buffalo. I'm okay, okay - sure. Let's look at the buffalo and hurry up so we can get home... so we're standing there in front of the buffalo and he starts to drop to one knee and I blink at him and say OH NO NONONONONONO and he says, YES! and I say uh no no way, no way are you going to do this here, and he says, "but I love you and I want to know if you will..." and I just grabbed his hand and pulled him up and started walking. I had NO idea where, but I knew it wasn't in front of the buffalo LOL So I drag him for about 3 minutes through brush and trees, past buildings until we come to this clearing that's about a half a football field and there's no one there... it's surrounded by trees and just amazing... and we find a spot under a tree and sit on a patch of those little daisies... and he says, "I want to know if you will be my wife." and I'm like um, that's not how it goes (in my head) and I say nothing. In my head I'm thinking none of this is real until I hear: "Will you marry me?" .... and... he doesn't say it. He gives out like 5 or 6 (repeating them sometimes, he's endlessly patient LMAO!) different versions of "I want to spend my life with you." and no "will you marry me" and I just sit there and say nothing... minutes go by... minutes and minutes and still I can't say anything. Finally I whispered very quietly that he was 'supposed' to say "will you marry me" and he laughs and he says it and I say yes and we kiss... I was such a dork back then! LOL But so was he! Seriously - the buffalo over the view from GG bridge? BAHAHAHAHAHA we're still in love
We got married at the JP on a wednesday so that on our 2nd anniversary we could have a renewal with all of our friends and family... we had an outdoor renewal... right on the same spot in the daisies where I had accepted his proposal
It's been 15 years this past june and I'M STILL waiting for that "engagement" ring, but this year he told me it was time... :*) I've told him it'll be the only ring I wear on my wedding hand... and I call it The One Ring (to rule them all lol).
PS I've known him 31 years - since I was 5 and he was 3. We got married at 19 and 21. We have kids that will be 12, 7 and 5 NEXT WEEK on the 16th anniversary of our first date