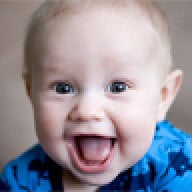 Joined

Jun 28, 2006
Messages

3,960
I love shoes to death, and am willing to withstand some discomfort in normal situations, but when I''m going to be on my feet for at least 10 hrs, I NEED to be comfortable. I wore uncomfortable shoes to a friend''s wedding that I was a bridesmaid in and not only did my feet hurt for days afterwards, but so did my back. I don''t want to have to deal with that on the honeymoon.
So, after lots and lots and lots of searching, I got frustrated and started trying on little girl easter shoes. I wear a size 8 in women''s, but some how this translates into a size 5 in girls''. They are so much more comfortable! I ended up buying these from kohl''s.


(yes, they''re velcro

). I figure, if I find something else that I like better, I can always return these, but for $20, they''re good enough. If someone catches a glimpse of them (because that''s all that they''ll see w/ my giant ballgown) they''ll see white shoes with rhinestones.
​