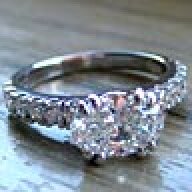 Joined

Mar 7, 2009
Messages

21
Hello RockyTalky Folks!
Long time reader, first-time poster here. I've been looking far and wide for the perfect oval for an engagement ring for my girl. I've hit just about every store in my area and beyond, and I've become intimately familiar with a wide range of crappy looking overpriced stones.
I built a nice spreadsheet of the diamonds i found various places, including some i found through pricescope here, and comparing the best ones, I found one locally I am seriously considering, and would like some opinions from the experts here.
Specs:
1.26ct, F, VS2
Depth: 61.6
Table: 59
Crown: 12.3
Pavil: 44.7
Girdle: vthin to med - fctd
flr: none
culet: none
pol/sym: g/g
l/w ratio: 1.39:1
Dimensions:
8.48 x 6.10x 3.76
EGL-USA cert, 10/00
I'm not sure how useful the holloway cut adviser is for ovals, but i punched in the details and it puts it just a smidgen to the northwest of gia excellent. To my eye, it was very bright when i compared it to a gia ideal round of the same carat size, similar color. Fire and brilliance were a little less than some other stones i saw, which also seems to be reflected in the holloway report.
As far as the jeweler, it's a locally owned place, not small, excellent selection of mountings, and the only place i encountered so far with the rappaport sitting on the counter. he referred directly to it when calculating my price. He gave me a hard time about my little diamond spreadsheet, (in jest of course) and acted shocked when i told him i'm in sales, as he had me 100% pegged for an engineer. His schtick was pretty much summed up as "i'm cratchety and i don't care if you buy from me. If you do, you're gonna get a good deal" This was a nice change from some of the smarmier guys i dealt with.
Price offered after some calculator magic was $6000.00
Listed on the envelope as rapp $7700.00
Here are my main reservations for this stone. tell me if i'm too paranoid on any of these points:
1. EGL-USA cert.
the stone looks dead-on for the color and clarity to me, but the date is 10/2000 on the cert, which i wanted to question here, as i had read EGL was softer on older certs. any opinions here?
2. Very-thin to medium faceted girdle
i think i'm ok with the vthin girdle,, as our basket type settings we are considering should protect it pretty well. it looks thin in the loupe, but not knife-edge thin.
3. Cut - looks good, no bowtie. well...maybe ever so slightly but very acceptable to my eye. Cut parameters fall within the 2A range from the chart i found here http://www.gemappraisers.com/oldcutgraderules.asp - the only spec a bit outside is the crown height is just a wee bit lower than the 1b range.
4. I'm not perceiving as much fire and scintillation as a few others i've seen, but it may have been due to different lighting conditions. This store had standard flourescent tube lights, so i felt what i was seeing was very honest next to the window on an overcast day and from different angles. We weren't being bombarded with small pointed bright-ass halogens that might have exaggerated the fire in some other stores we visited. We also put this oval next to a gia ideal round of same carat and color, and though the round felt a bit more contrasty, the oval more than held its own. looked bigger too, as they tend to
So all that being said, I am being very critical here, but this is also the best stone i've looked at locally. It really does look good on her hand and under the loupe (no scope at the counter though)
The only other local candidate I considered was an 1.33ct F / SI1 stone that i didn't get all the specs on but it felt very fiery deep and colorful. It looked great, but I ruled it out because of a big fleck of pepper right dead center of the table! It was eye-clean at first, but after seeing that fleck in the loupe i couldn't un-see it and reflected all over the place in the pavillion! like i just zoned in on it and couldn't see anything else. arrgh! it was a little overpriced anyway.
As far as the mounting, she decided on a shared prong mounting with 6 12pt diamonds split either side of a basket style mount, and we're setting the oval east-west across the ring instead of the traditional north-south orientation down her finger. She's very set on this east-west thing from the start, and it's been a pain finding the right mount to do it.
Wow, that was a novel! If you bothered to read this far I'd love to hear any comments or suggestions on our findings so far!
Brandon