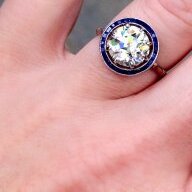 Joined

Oct 1, 2003
Messages

52
Hi everyone, wanted to share my new eternity band, which I am so excited about! I've been looking for the right band for a long time. I wasn't looking for something to wear with my engagement ring because it's an antique and I don't want to risk wear and tear on it, but I did want something with an antique feel to it so that even if the eternity ring didn't pair with my engagement ring, it would still conjure up the same vibe.
I must have tried on dozens (if not a hundred) bands over the past couple of years, and there were quite a few I really liked, especially antique square French-cut bands. But nothing gave me the feeling my engagement ring had, of seeing it and instantly thinking
this is the ring that makes my heart sing.
And then, one day last summer, a friend dragged me into... Tiffany.
Truth be told, Tiffany wasn't even on my radar. I've always loved antiques, and when I haven't chosen an antique, I've generally gone for custom work and preferred to forgo name brands for satisfying my own persnickety preferences about quality and aesthetics. So it was a complete surprise to me to slip on a rose-cut band from the Tiffany Metro collection and feel that thrill that I had been looking for.
There was a bit of drama in actually buying the ring-- my husband and I wanted to wait for our anniversary and Tiffany discontinued the style in the meantime, assuring me in a bizarre customer service email that "this item is no longer available for purchase at any retail locations, online or over the phone with a sales professional." We went in a bit of a panic to our local store and were assured by the perplexed sales manager that if they had the ring in the store they would be more than happy to sell it to us, and thankfully they had two remaining, one of which was my size.
I wish I could capture the special magic of rose-cut diamonds on camera. I would have expected rose-cut diamonds to be like shards of glass because of their light-leakage. Nothing could be further from reality! They shimmer in the most entrancing way, throwing out huge rainbows and panes of white light like my OEC, but at a much more serene pace-- it's a little like watching a disco ball slowly turn. It's an eye-catcher in any lighting situation I've encountered thus far, and even at the end of the day when it's a bit smudged. There is also a "watery" quality to the cut, a purity and translucency that reminds me a little bit of a Golconda diamond I was once lucky enough to try on.
I love that the diamonds are set so that they peek up over the sides of the setting, creating sparkle from the sides and also showing small variations in the profiles of the diamonds. Apparently (if the New York Times is to be believed) modern rose-cuts must still be hand-cut and polished, so these little variations will occur even when the stones are well-matched from the top view.
Now I'm wondering what rose-cut studs would be like....