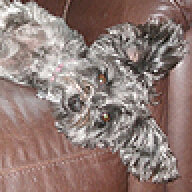 Joined

Mar 13, 2003
Messages

131
Oooops! Hit the wrong key!
Here's my story:
My new ring has arrived, and it's better than I could have ever dreamed!!!

I began my search looking to upgrade my .27 carat marquise to a 1 carat princess cut for my 15 year anniversary. After visiting several B&M dealers, I stumbled across Pricescope and decided that I needed to do a lot more homework before I could buy.
We then decided to go with a round brilliant because we wanted this baby to sparkle.My husband talked me into going with a bigger diamond

and I'm really glad that I did.
I worked with Todd & Robin at Niceice, and they were absolutely the BEST!!! They were friendly, professional, prompt and patient with us. Once I found my diamond, and F SI1, I had it shipped to David Atlas where Chris appraised the stone. From there, it was off to Somos Creations where the stone was set.
It arrived last week (it's taken me that long to figure out my digital camera

, and here it is!!!