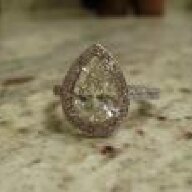 Joined

May 10, 2011
Messages

40
So to cut along story short I originally lost my wedding and engagement ring while wearing them after having my DD. My insurance has finally finalised and my beautiful DH wanted to give me the ring I have always been dreaming of.. Now don't get me wrong I L

my rings and I am so so so shattered that I lost them. I feel that even replacement ones will never take the place of my originals. In saying that I have loved pears since Jessica Simpson got hers waaaaayyyyy back and that has alwasy been my dream stone. Now I finally have the opportunity to own my first (but hopefully not my last) pear!
Here are my original rings.
I have posted a thread earlier about the style of basket I wanted advice for my new pear halo. Well today I picked the stone. It is just GORGEOUS!! I wanted bigger but I had to stick within my budget. I was looking at a couple of .90 and a .94 as well as a .70 but when I saw this .89ct pear I fell in love instantly!!!
These were the stats of the other diamonds I was looking at. Not 100% stats but you will get picture.
1st - I SI1 .90 - This looked yellowish. I know that when it was set it MAY loose the yellow tinge (and not that I am opposed to yellows, I think they are beautiful in full yellow) but this wasn't for me.
2nd - H SI1 .94 - Meh is all I have to say about this diamond. I wasn't really impressed with this. It was very flat.
3rd - D VS1 .70 - It was a little smaller than I wanted but even as a D and good clarity it didn't really scream "PICK ME!!"
4th - E VS2 .90 - again Meh. It seemed a little flat too. In this instance I am so glad that I was viewing these diamonds instead of buying blind. I am a very visual person.

5th and final - MY NEW BABY!!!
She is an .89 G VS2 GIA certed. The minute I laid on her I new this was mine!! I couldn't stop staring at it. It was so perfect in so many ways. So WHITE, so BRIGHT!!! It looked better than the D & E. And she was bigger than the .94ct as she has a bigger table and a smaller depth but she is the perfect looking pear. In fact she is PEARFECTION!
So here are the stats as well as a pic and the inspiration ring that she will finally rest in.
GIA stats:
Pear Brilliant
Measurements: 8.73x5.48x3.09
Carat Weight: .89 carat
Color Grade: G
Clarity Grade: VS2
Proportions:
Depth: 56.4%
Table: 60%
Girdle: (I didn't get this, forgot to ask)
Culet: ditto on last comment
Finish: Excellent
Polish: Very Good
Symmetry: Very Good
Fluorescence: None
Now for the picture. I'm not sure if this pic does it justice but it still looks nice and shiny. Also I forgot to mention that when I spoke to the lady today after viewing the diamond, the merchant wanted the diamond back for another client so my lady had to ring him and say sorry it's SOLD. Also this morning another lady from the jewellers wanted this diamond for one of her clients so it is a really good quality pear.
Here is the picture of my new love (bar my DH, DS and DD

)
And here is a picture of my inspiration ring. It's KiKiD's beautiful pear halo by DBL. I just love this ring so if KiKiD reads this post - Your ring is amazing and I am so in awe!!
Now all I have to do is wait for the confirmed pricing and give the go ahead. I am so excited!!!