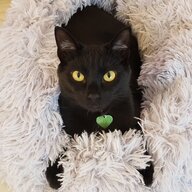 Joined

Jun 28, 2020
Messages

31
This is my first ever PS thread, and I'm a little nervous to post and have people rip this apart, but I am in love with this ring I purchased and wanted to share!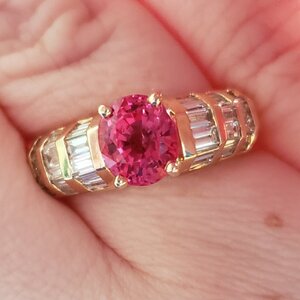 I purchased this (presumably vintage-- 80s? 90s?) pink spinel and diamond ring on eBay from a seller I didn't know, but that has a long selling history and great reviews. Took a chance because the price was right regardless of whether the spinel was real or synthetic.
This wide heavy band/baguette diamond style is definitely not my usual cup of tea, but now that I have it, I am super into it. It makes me feel like one of my mother's wealthy bridge-playing friends who care nothing for the current fashion of dainty jewelry and go loaded to the grocery store. But mostly, I am just blown away by the color of the main stone. It is a vibrant rich pink that sometimes reads more red, and other times more purple-y or orange-y.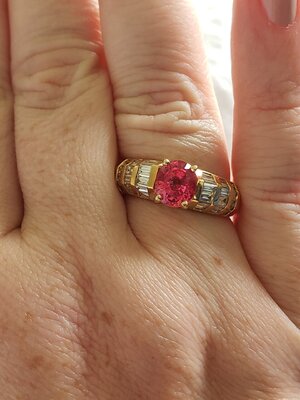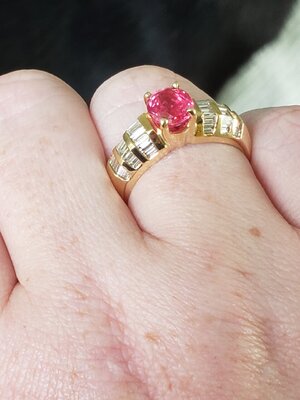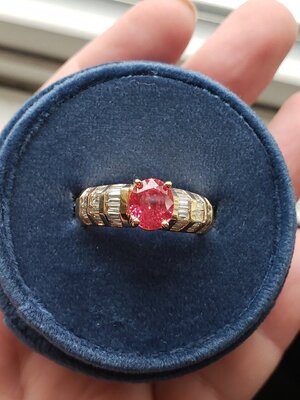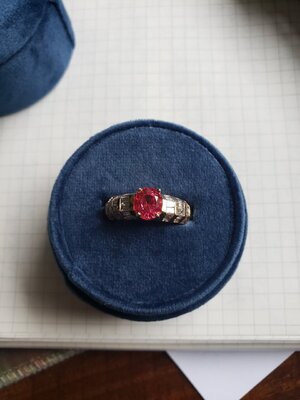 I have no idea if the stone is natural or not--the seller claimed it was natural, according to her jeweler, but even even a newcomer to gemstones like myself doesn't expect to find a 1.8 carat bright pink spinel like this for under a grand.
There are some surface scratches on the stone (disclosed by seller) as well as some inclusions visible to sharp eyes or a loupe. I'm not experienced enough to be able to tell whether they're indicators of being a lab stone or not, and one on the end could definitely be damage from being set.
Maybe you guys have an idea? If folks here think it may be natural, I can spring for a GemBrief...though I will be happy with this ring regardless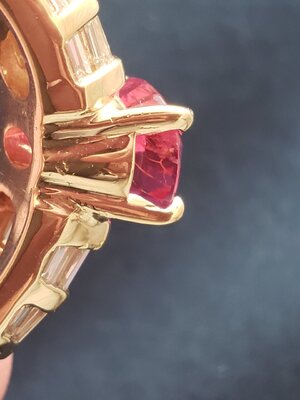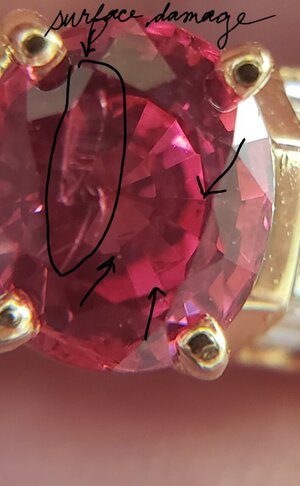 If you have read this whole thing, thanks! Hopefully it has shared the joy with you a bit.
Last edited: