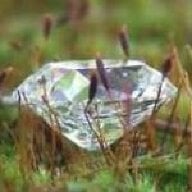 Joined

Jun 29, 2006
Messages

11,071
I don't think I've mentioned her here, but I am just in deep smit over this baby girl. She wasn't named for two whole weeks because I just needed the perfect name for her - and she ended up with a silly name
Her name is Basha. (if you know Chinese - her actual name is ba shi which means 80 - which is how much I paid for her 80rmb and something my ayi kept muttering under her breath for 3 days and it ended up sticking) Anyway...
I bought her out of the back of a dirty truck parked on a dirty street. I was crossing the street and I saw this white puff and I started walking toward her before I could think and when she looked up at me I just knew I had to save her from whatever chinese life she was going to have. My husband said he would only hate me 8 or 9 on a 10 scale so I ran with it. I just got her and scooped her in my arms, held me close and walked on the busy chinese street for about 4 blocks and got my driver to take me to this dive of a vets.
But she is healthy - not even fleas... no ear mites, no cold. We kept her away from our other cat for a month and it took about 10 days for them to get mostly comfortable.
Here she is - her first picture. Covered in urine and blue ink.
Here she is the next day after a bath. She actually likes bathtime. I think she may be a water cat
She has the most beautiful eyes. I know some may think that it is weird looking and it may have been a little startling at first, but I think she's beautiful!
Freaking adorable!! It only let me upload 4 pictures so that's all for now
Oh, and she is the best cat I've ever had! I can pick her up and lay down with her and she will just cuddle and nap for 2 hours purring the whole time. She's also maybe the smartest cat I've had. Hard to tell yet since she's still a kitten but she's very quick mentally and contemplative. I see her really think about things. Our other cat looks at things. You can see her processing them. It's funny to watch.