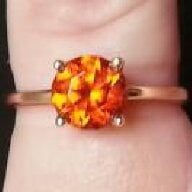 Joined

May 12, 2006
Messages

6,487
Date: 12/29/2006 4:17:56 PM
Author: gail013
Thanks for all the nice comments. We were at my brother''s home over Christmas, and my other younger brother looked at my stone and asked me ''is that a CARAT''?!!!! I nearly died becuase I was embarrased to say that it was actually three. I thought he was gonna choke! Jewelry is not important to anyone else in my immediate family except me. I just can''t get enough!
Congratulations!!! It is lonely sometimes. But you have PS to post on. We love to chat about jewelry!
You should have said "Why yes, it is 1ct and that''s the minimum you should get your future wife."


Then gone ring shopping with him. LOL
OK I''ll stop being mean. It''s just that most people know nothing about jewelry and don''t really care. So sad.