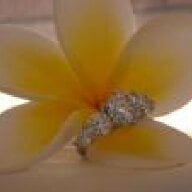 Joined

Jan 17, 2009
Messages

2,692
Hi All
Sorry for the sook, but since none of my friends and family actually know of my plans, i can''t talk to anyone about it!
When I told my mum of the suprise wedding idea she didn''t take it too badly, her first reaction was, but i wont be able to get dressed up... i am the mother of the bride you know! lol.
She wasn''t over the moon for the idea, but at the time she didn''t seem too bothered by it either, but she has obviously had some time to think the idea through and she pounced on me the first moment we were alone together on the weekend.. (in the car on the way to look at a dress that i liked no less!)
She kept making comments like, but it''s not a real wedding, people wont be able to see you, can''t you just have it at a restaurant? everyone will be half pissed by the time you get married... no one will see you!!!!!! (she was very hung up on that point). She even went as far to say that she would pay for my dress if i was to have a ''real wedding''.
I tried to explain that i didn''t want a traditional/normal wedding and she said that if we went to a resturant for dinner and everyone paid for it themselves, it wouldn''t be traditional.
Anyway, so we get into the dress shop and i try on a pronovias dress that i thought could possibly be ''the one'' and all i got were comments like, you can''t wear something like that in your back yard, but you will only have it on for 2 hours, it''s not worth it... why would you waste your money on a dress like that when no one will see you???
This all promptly reminded me that i had actually decided NOT to go dress shopping with my mother in the first place, but this was after we left to go have a look and after i had already invited her to come shopping with me this weekend!! (she had yet to pounce on me when i asked her).
So all week i was tossing up whether or not to go shopping with her, one day i would think yes, give her another chance, the next i would think, no it''s not worth it. Anyway, yesterday i rang her up and told a lie, i said i couldn''t get any appointments with the bridal shops so we weren''t going, she was good about it, AND NOW I FEEL GUILTY!!!!!

I hate how she makes me feel, she makes me doubt all of my choices and makes me feel bad about myself, which makes me not want to include her, but then i feel guilty becase she is my mother... what to do?