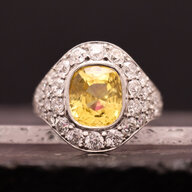 Joined

Jul 23, 2012
Messages

19,823
I stopped by my parents today. We've been talking for some time about how she'd like me to set her marquise. I plan to do it in the next few months. While she had it out with some other jewelry she showed me this stone she has been wanting set. Based on the size and color I think it's maybe a half ct or so at most and maybe a g of higher. It's very white.
It's such a cutie. She wants it in a ring. Something yellow, or possibly two toned. Timeless with a hint of vintage.
Her hands are maybe size 8, so if won't have the most finger presence. But I told her I'd find something. So far she's thinking a plain shank halo, as its within her about 1500 budget and she thinks it'll be cute. I was thinking maybe a three stone with sapphires. She needs it bezeled as its had a long life. It was handed down to her by my great grandmother.
Anyways the pics aren't great but though small, its so well cut the pattern makes me smile.
If you have any ideas I'd love to here. Again, finger presence, classic (like it was made to be classic in 1945)
Look at her itty bitty table !