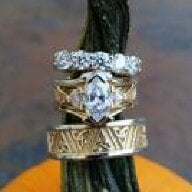 Joined

Feb 6, 2009
Messages

2,181
Hi everyone. OK... the story. My grandmother gave me her wedding set a few years ago (I think trying to get my then boyfriend of 9 years to propose sooner!). However she wore the platinum setting for over 50+ years and it was horribly worn. The diamond could fall out, many of the bridges were broken so on. I was thinking or having someone recreate the setting, but she told me to get something that was a blend of her and I. So my mission was set.
Well, it took me a while to save and even longer to find a setting that fit my criteria. But I just picked it up on V-day, brought it to show her yesterday - and she LOVES it! Just thought I would share with you.
If anyone recognizes anything about it, please share. I know nothing besides that it was bought in the 1930s, is .33 ct. The jeweler said it was a rose cut, but after researching on here I believe he is wrong. He also told me he thought the stone was 100+ years old, but who knows. I know it is a warmer color, b/c up against my E color marquise it looks the candlelight. Does anyone have a guess on the color of the stone.
OK... enjoy!!