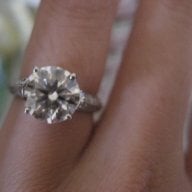 Joined

Sep 16, 2006
Messages

1,045
Just wanted to share in case this will help anyone in a similar situation...

This weekend I went to a B&M in San Francisco to check out a Danhov setting that I really like. It was goregous but I balked when I found out the price. I wasn''t sure if I was going to get it anymore, because it was way more than I was planning to spend.

I went home and did a little research, and it turns out that an online vendor can get me the exact same Danhov setting for $1100 less. Amazing! Now I can buy the setting without feeling guilt.

But for some reason I feel bad for the poor B&M that will not get my business.