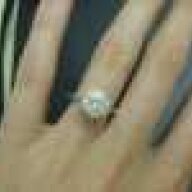 Joined

Apr 20, 2008
Messages

203
Hi Pricescopers!
Very excited - my Leon wedding band is ready! I''m going to drop off the check at lunchtime, and see it.... but I won''t be able to take it home yet!

I have to wait ''til DF''s check clears, as we weren''t able to get to the bank to get a registered check - totally fair enough! Anyhoo, that means that I probably won''t be able to post pics for 5-7 business days (!!), but here is a teaser shot of a very similar band from his site for now. This version is .73tcw - mine turned out to be 1.27tcw.
Also going to talk to Leon about
potentially
altering the head of my engagement ring - my stone is set very low, and so I''m slightly worried that the girdles of the stones in my wedding band will wear away at the delicate prongs of my engagement ring. I think it would probably be better to raise the head a bit, to avoid problems down the line.
I''ll let you know how I get on!
CK