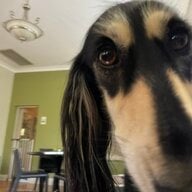 Joined

Jan 22, 2014
Messages

5,701
With lockdown finally over here in Sydney Australia I was able to go and collect Frankie.
Frankie has had an interesting life. Purchased as a watch by my mother many many years ago and worn by her on special occasions. Frankie was always loose on my mum's wrist but eventually mum asked me to take it to my jeweller and have some links removed.
it was a rather shocking call that I then received from my jeweller. The stones in the bracelet aren't diamonds!
What!
The gems on the watch head are diamonds, the watch and bracelet are both solid 14kt gold. Yes, the bracelet is beautifully hand made / assembled BUT none of the stones are diamond, all are CZ. Even my jeweller was surprised!
Unfortunately it had been at least 15 years since Mum had bought it so there was no returning for a refund, that and the store was no longer there (old guy had passed) so……… hmmmmmm………
Mum gave it to me and bought herself another diamond watch. This one definitely diamond, she insisted to have every single one tested.
Frankie then took up residence in my jewellery box, along with my many other bits and pieces, and I occasionally wore the watch though having a lot of watches it wasnt high on my rotation list.
I recently, well months ago actually, decided to give Frankie a new purpose in life, as a bracelet. Except I needed a decent size marquis stone and it didn't seem sensible to invest good $$$ in a natural gemstone so I added to the Frankieness of Frankie.
Frankie is diamond, CZ and Moissanite Bracelet and despite being a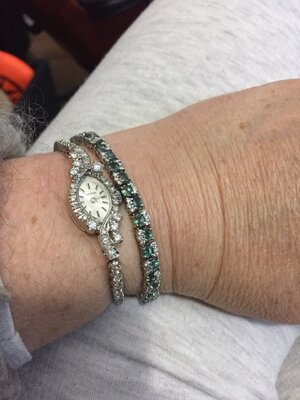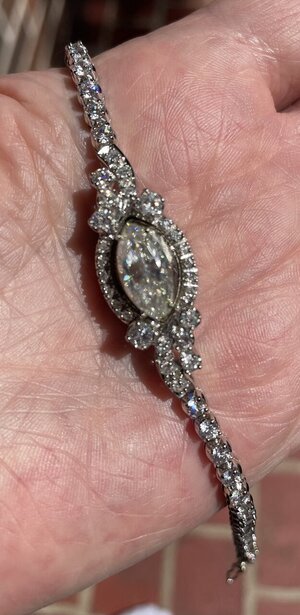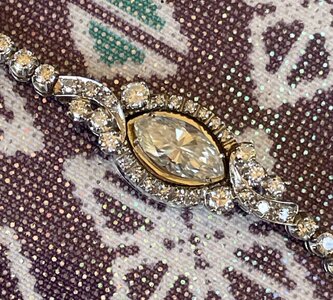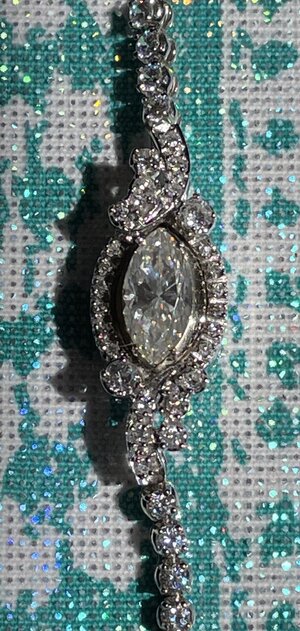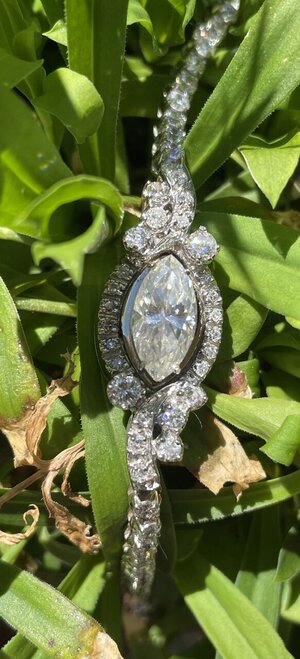 deceptive Frankenstein creation, looks a million dollars.
Very sparkly.
Very happy.