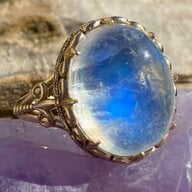 Joined

Mar 13, 2005
Messages

2,262
I've been hoarding these stones for a while now, but have been too lazy to post them. Ideally, I'd be rich and I'd be able to set all of them at once so I can actually wear them, but alas. Reality sets in, and money has to be rationed. What? You mean we have to pay the bills? What is this thing you call a "savings"?
Thanks for letting me indulge in this "sickness". Or as my husband complains, "Why can't you take up cheaper hobbies like gardening or painting? Like normal people." They will never understand.
I have to start with this dendritic agate. It's so cool, it reminds me of nature. It measures 1x2 inches.