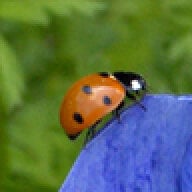 Joined

Jul 26, 2004
Messages

1,757
And I love them! (mostly)
My invites arrived today and they look great! The only thing I don''t completely love is the color of the paper/ink. I made some last minute changes and decided that there wasn''t time to get new samples sent...So the blue paper is lighter and more grey than I had expected. In the photos (to come!) it actually looks like what I was hoping for, but in reality, it isn''t quite that shade. Oh well! I am letting it go...They are still yummy! The texture and weight of the paper is fantastic and I am completely in love with the final design! And besides, FI says I am crazy and that he likes the color just fine.

The designer and printer was
Oblation Papers
. They worked from a sketch I had made and came up with something much nicer! The only issue I had with them was that they do not have a "white" paper, only soft white, which is really a cream. And their non-handmade-envelopes are really more of an ivory. Thus, I decided to go with the lt. blue paper...
And I ordered the inner and outer envelopes from
PaperSource
. Their white still isn''t a true white, but it is better than Oblation''s. Plus, the paper and texture more closely matches the invites. I sent the envelopes to Oblation and they printed them for me with the return addresses, etc. (for a fee, of course)
None of this would have been possible without Dana at
A Fine Line
. This was a very long and complicated process because I didn''t really do enough research first, and she has put up with me for months. You *can* deal directly with Oblation, but since I had already paid her a deposit before we decided to switch to them so they could do the design, Dana ended up facilitating the whole thing. She did a great job getting me through this, though, and in reality, she probably made it easier for me than it would have been otherwise. I only wish that I could afford to have her do my calligraphy because she is awesome!
Now, some pics, starting with the cute boxes from Oblation...