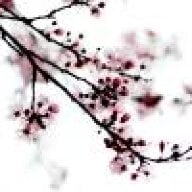 Joined

Jan 20, 2011
Messages

311
This is a VERY long post because I know there are others here on PS who are really into the craftsmenship of jewelry, so I wanted to share with all of you everything that I recently learned. Last week I got to spend a good 3 1/2 hours over at Victora
Canera
's studio in Los Angeles. Ladies, I got to see some amazing jewelery! and he allowed me to take so many pictures. We had a whirlwind marathon session meeting and I am so grateful for the time that he spent w/ my mom, aunt, and I. Some may know that I have been VERY indecisive when it comes to my e-ring. I went from loving blue sapphires, to cushions, round brilliants, colored diamonds, back to RB.
I know that my views on some things mentioned below may not be the norm, but they are important to ME. Still, I apologize for sounding preachy. The process of designing my ring was special for my partner and I because we may never spend the type of money that we're spending on our "production" aka wedding... so why not use this opportunity to actually support artisans who are doing work that we admire. Although I want a relatively typical setting that many others already have (a nice solitaire or Harry Winston inspired halo & pave) I am certain that I want it to be a handmade piece made by someone who loves their work and someone who wouldn't mind all of my questions... I am very sentimental when it comes to my engagement ring, I want to do this right just one time and making this ring my forever setting. I think that jewelery - especially sentimental pieces that are meant to be worn for life and passed on as heirloom pieces - are so special, and the hands that touch/create them are a part of that process. So when it came to my ring, I wanted to get to know the designer. I spent the past few months researching SO MANY designers and just couldn't find the perfect one for me. It made me sad to realize that there are very few vendors who still spend time employing lost or old techniques which are usually passed down from one generation to another. These skills are no longer used because it just takes too much time, and although in the end an incredible high quality piece is created, some vendors are just not interested in doing the work that it takes. Which is why I wanted to support these techniques, not only because I would end up with an exceptionally well made ring, but also because I would be doing my part to ensure that these techniques would not be lost forever... and that we don't just end up w/ a bunch of mass produced items.
After searching for a long time I fell for various pieces by MCII and my fiance was days away from pulling the trigger on one of their pieces, But during that same EXACT week Angietaren posted pictures of her amazing ring and ring making process:
[URL='https://www.pricescope.com/community/threads/hand-crafting-my-victor-canera-ring-from-scratch.155293/']https://www.pricescope.com/community/threads/hand-crafting-my-victor-canera-ring-from-scratch.155293/
[/URL] I had never seen her on PS before, but if she's reading this I want her to know I am SO grateful for her post!! If it had not been for her I would never have heard of
Victor Canera
. Right away I knew he was the designer for me. I reached out to him and was pleasantly surprised to find an individual who not only made incredible jewelery, but someone who was truly passionate about what they were doing, had no problem answering my questions or helping to educate me on jewelery craftsmanship and techniques. I spent the past few weeks (months actually) emailing everything from videos, images, drawings, etc. back and forth. He's helped me learn about his style and design & has been sooooo patient with me and answered all of my questions. To date we've sent nearly 79 emails back and forth. Yes, true story.
I quickly realized that I knew very little about the difference between a "100% hand made/forged" ring and a "casting free" ring. Victor actually pointed out to me that since there aren't any real regulations in the industry, "hand made" is defined in many different ways in the industry. I really appreciated that for him and his jewelry it meant fully "casting free". The issue of hand made vs casting free reminded me a lot about misleading "organic" food labels. Due to lack of federal standards, and high consumer demand, the organics market has grown into a $53 billion a year business, making it the fastest growing segment of the food industry. Yet USDA shortcomings mean that consumers, who may usually end up paying twice as much for organic products, don't usually get what they expect. So you may be purchasing a box of cereal that says "organic!" and assume that every item in the product is 100% organic, when in actuality there's only ONE or tww organic product (usually the organic cane sugar or organic soy bean oil) But I digress...
I didn't actually think that there was a big difference between a ring that was made via casting and a ring that was handmade. I assumed that cast piece MUST be just as great, why else would all these vendors employ such tactics? I didn't appreciate the difference until I got to see and compare it for myself. At his studio, I got to see a wide array of handmade pieces. We had also brought in a few of our own cast pieces to compare. Victor showed me the exact areas where the difference suddenly stood out between a cast ring, and a hand made one. These were bare mountings without diamonds on them. The difference was huge. Earlier, in our email conversations he had sent me pics of two bare hand forged mountings to show me the difference. Here they are: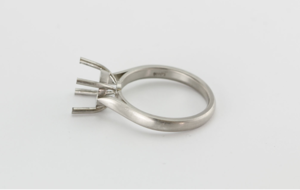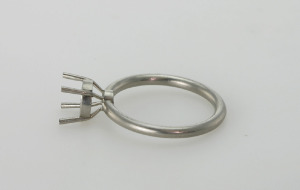 Of course after he showed me this, I was going to annoy him w/ more questions I also know that many of you wanted specific info on the primary differences between a 100% hand forged ring and a ring that was made via casting. So here is just some of the explanations he gave me in via email "In the cast pieces you lose the fine details, the crisp angles, the sharp joints that you gain by hand making a ring. Since a ring we make is made from dozens of parts like metal plates, prongs, and tubes that are assembled together. each part can be cleaned and polished and then put together to make a ring. That's why inside parts of a ring, underneath a halo for example are clean. When you cast this item, there really isn't a tool that can reach those crevices and clean those areas. That's why it'll look like molten metal there. Prongs are perfectly round, shanks are perfectly shaped, no waviness, everything is just spot on."
I see now why casting pieces just look more manufactured (to my sensitive eye anyway)
He goes on in another e-mail "because as soon as you cast a piece, casting creates a pockmarked skin and adds imperfections on the surface of the metal that has to be filed down and cleaned to make it look good. Also, you'll never be able to get the level of almost microscopic detail with casting that you get with hand forged jewelry. Symmetrically, hand forged jewelry rivals CAD\CAM I've heard people say that since a piece isn't symmetrical in an area or something it must be hand made. That's not really true. Hand forged pieces are usually made with pairs of parts. For example the cathedral part of a ring are made up of two "wings" that give the shank this design. Since you're working with pairs of parts, it's unlikely that it'll be asymmetrical. Also, hand forged metal is actually more durable than cast metal. The reason is that after melting the platinum ingots, we methodically hammer the material to pack the molecules closer together, make it more dense. This makes it a bit more scratch resistant than cast metal."
I was personally very fascinated w/ this part of the process because in my organic chemistry metal working class I had a professor whose always talked about this... After examining various pieces that I had brought in - which were made via casting - next to the hand forged pieces he creates, I saw such a big difference. It's difficult to explain, but the details are just more clean, the curves and the angles move in a way that I had not seen before, it just looked totally different to me. I could not go back after that. I was already hooked, line, and sinker. After nearly 6 months of searching, I found the right person to make my e-ring. Ifeel lucky that he's here in Southern CA so that I can actually watch some of the process up close. My mom also commissioned him to remake a ring for her.
Now, the nitty gritty details and info are over, I need you guys to help me when it comes to specific design. If I go w/ the setting that has pave, what kind of pave should I use?
As far as the pave goes, a part of me is drawn to the v-cut/cutdown/craponia look but I feel like it'll be tooooo blingy for me... I am also afraid of the durability of this type of pave... could those of who have them (for more than a few years) please chime in? have you had stones fall out? I am leaning towards a brightcut look... Victor told me that at the end of the day, bright cut is safer than the other types of pave since the girdles of the diamonds are not exposed and the stones never really fall out. The de-forming of the band is also much less of an issue since you're not creating grooves horizontally on a shank thereby weakening it, but making small holes instead. One suggestion that he made if I really want v-cut/craponia/cutdown pave is to have use slightly smaller diamonds whereby the grooves made on the shank are not as deep and don't weaken the shank as much.
After our meeting he emailed me me this to help me make up my mind, I am leaning towards the Brightcut pave, what do you all think?

He also told me that another way to keep a ring from de-forming is to make the shank from a plate of metal (squarish) as opposed to wire of metal (round) which is stronger because of the shape. He said that although he appreciates that people love the look of 1.4mm thick shanks but that's most likely going to cause them problems in the future either with the shank deforming and\or diamonds falling out. His recommendation for my ring was to go with at least a 2mm shank... which is similar to the Harry Winston micropave replica size (1.8mm)
Okay I think that's all for now.......... on to the pictures. The 3 rings in the first picture are my fave, the others in the picture are not really in consideration for my e-ring because they are my mom/aunt picks and I think they secretly want to get it for themselves
still they were very pretty and I figured you all want too oogle them. Alright, give me your pick!! which one do you like best? Ring 1 (on left) 2 (in middle) or 3 (on right)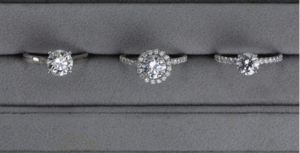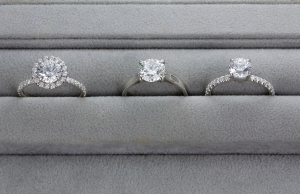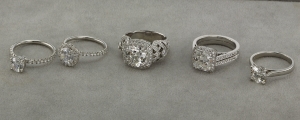 ​