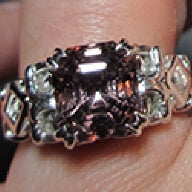 Joined

May 1, 2011
Messages

248
I spent some time trying to get to know my Canon again after some time away from it. None of these images have been edited, and I have no idea how this spinel looks anywhere from amethyst to a cafe latte', but it does! In real life, it's truly rosey lavender. I don't know how you all capture true color, but regardless, some of these came out ok.
I took 130 pictures, but I swear I won't post them all.
Jerry Newman from gemart cut my ebay find into the perfect stone for me. He also cut a Rose de France and some of those are in here too. I had to take them both. eep!
Honestly... the cut, the size and the color at first glance of the Rose de France is just TDF!! but for me personally, the hunt, the find, and the little imperfections of my spinel who I have named "Grace" just shoots her sparks of passion right into my heart, and she's the one going in my e-ring no matter how hard that Rose de France flirts with me! ha ha
Likely going to give the Quartz stone to my daughter for her 21st birthday or graduation from college- not sure yet, but I'm putting it up for a very special day
And on to the photo onslaught!