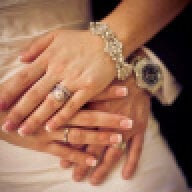 Joined

Sep 5, 2007
Messages

2,201
First I''d like to say a big thank you to AmberGretchen for turning me on to Rebecca Minkoff. She sold me on buying one and I love it! I wish I''d have gotten into her sooner so I could have gone to the sample sell. Next time someone let me know!

Anyways I had a really hard time deciding between the nikki and the mini nikki. I am not a big handbag kinda gal but having a big hobo bag seemed useful. Anyways I went ahead and decided on the mini sight unseen. I haven''t seen a regular nikki yet to this day! While I understand some people''s complaints about it being a bit too small it was perfect for when I went to dinner and to Nightmares on Wax at the independant in SF. It was comfy hanging on my shoulder through the whole evening in a crowded club. So size was great. I still want to get a regular one next though.
In terms of color, oy that was hard. I thought navy or charcoal patent leather. I still love the charcoal patent and may get one someday but patent stands out. AG convinced me Navy probably wasn''t my color with all the darks I wear. I tried on a Navy MBMJ bag and she was right, Navy was not good on me! Thanks AG!
So long story short and hours of research online later I found there was a purple patent mini nikki for sale on ebay. I checked tPF and someone had recommended that auction as well. I made a lower offer to the seller on ebay and got it! It arrived this week and I finally got around to taking a couple photos. I''d like to note that I took these pics quickly with my new Canon 850IS which I also got on ebay (and again thanks AG haha).
My one concern about the patent was that it wouldn''t be smushy and instead stiff. It''s actually still smushy! It''s great and not stiff like I thought, yay!
So I''ll post a couple pics I took with a flash. Looks brighter than it is. Then one with reg. light no flash, and I fixed the shadow''ing in photoshop to try and get as close of a representaion of the real color as I could (on my monitor at least).