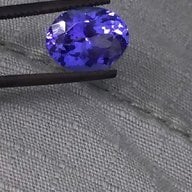 Joined

Apr 28, 2016
Messages

107
At the suggestion of
@dk168
that I reach out to Jeff to see if he can cut another garnet similar to what I was looking for in this thread:
Hi all, I don't post here often but I have been a regular reader here for over a decade. I have been obsessed with this stone originally owned by Endless Summer ever since she first had it commissioned. It has been available on JBG for a very long time now. I would love to own it however I am...
He sent me 1 option that he had that would work. It was a beautiful piece of rough but I felt like I would always regret not buying the stone he had cut almost a decade earlier. I let him know that I was buying the 5.14ct mint garnet from JBG and that I would like to commission a pink spinel from him down the track.
Jeff told me that he has some new rough from Tucson, and that he would send me some options. Jeff picked out a large piece of rough from Tajikistan, a smaller piece sold to him as Mahenge but he believes it is probably from Madagascar and a third orangy pink piece from Africa. I was having trouble choosing between the large Tajik rough and the smaller orangy pink piece. Jeff suggested I buy both so that's what I did!
I have never commissioned a stone before so I am excited to see how they both turn out! Obviously I am hoping for a stone on the upper end of his estimate but I am mentally preparing myself for the lower end of his estimate.
The Tajic rough should yield an oval or pear of 3.5-5.9ct and the orangy pink rough should yield an asscher of 2.1-3.2ct. Obviously it will be a few months before I have any updates on these. I am very excited already though.