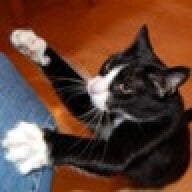 Joined

May 6, 2005
Messages

2,991
So I got it some friends. These are earring charms made by Brian Gavin Diamonds. The diamonds are each .25ct H SI and the sapphires are 4mm. Diamonds sourced by BGD and sapphires sourced by Michael E. The in process thread with sapphire search and extra angst can be found
here
.
First up, some vendor pics. These pictures actually are''t the final product. The rings on this pair were too small to go over my earrings so I had to send them back to have a bigger ring put on.


And the final product. This was the only picture I took that had the whole earring in the shot and wasn''t totally blurry. This was taken in my bathroom so the lighting isn''t the greatest either.

Indoors with the flash.

The rest of the pictures were taken outside in the early(ish) morning on an overcast day. The sapphires are somewhat lighter and brighter than how they''re showing up.
My eternity band with the charms. This is probably the closest to the sapphires actual color but they''re still a bit brighter and bluer than shown.


The charms on the hoops. The sapphires are bluer than how they''re appearing. They just weren''t very photogenic this morning.