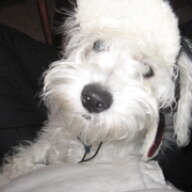 Joined

Dec 6, 2008
Messages

25
Hello PS!
I have been a member for a few months now.. and I have a ring to post.. lol
I recently got engaged! yey! I have been searching almost a year for that perfect diamond and I finally found it.
I would like to thank everyone here for all your help and resources.
Oh, and also thanks for letting me get job offers from jewlers in town as well!
They are sometimes amazed at how much I know and asked to work for them several times.. and I tell them.. it''s all PS.. not me!
When I started the search I was set on having a 1.5 or bigger but after seeing and trying on many different rings, I''ve decided that around 1ct looked the best and.. don''t tell my FI but I had to leave some room for future upgrades.. hahahahaha.
Well, enough talking and I hope I can make this work.
Once again.. thank you PS!
Oh, and It''s a 1.001ct G, VS1..