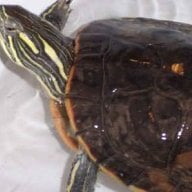 Joined

May 1, 2006
Messages

584
My dress was delivered to the shop last week, and I got to go "visit" it on Saturday.

It was really nice to finally see the dress on me in the right size. The dress is from Casablanca - style 1832.
The fit is pretty good ~ just needs to be taken in a little for the chest and waist, and have bra cups sewn in (it is pinned a little in the pictures). Casablanca was supposed to cut it in the proper length for me, but somehow that got screwed up and it is a couple of inches too long ... but that will be taken care of by the seamstress at no extra cost to me.
Any way, just thought I would share! In many of the pics I''m wearing a fingertip length veil, but I''m not so sure I want a veil. The ceremony is going to be outside, and I just have this vision of it being windy and the veil just getting in the way. I''m also going to be wearing my hair up, and I''m afraid of my hair getting messed up as I would not want to wear the veil at the reception. What do you all think?
Also, since the bodice is so decorated, I am thinking of maybe skipping a necklace and just wearing some dangly earrings (maybe chandelier?) I thought I would ask my ever-knowledgeable PS''ers for advice! Thanks!!!