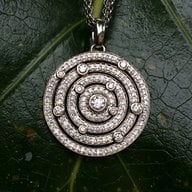 Joined

Dec 9, 2008
Messages

2,260
So. My dress.......
Is a sample from a bridal salon which had closed down. I saw it advertised online and went to try it on. It fit. I liked it. Price was good. I bought it.
I tried it on again last night and had my mum take some photos (my theory being it would be easier to take photos with me when picking shoes, hairstyles, flowers, BM dress etc to make sure colour/style were right) and also so I could try on different heel heights with it to see what hight shoes I can get.
The verdict is I have to wear flats or else the underskirt lining thing looks too short as it is about at least an inch shorter than the chiffon. Not very effing impressed about wearing flat shoes. I don't like them for special occasions, I don't feel dressy or attractive in them. Also, I would never wear dressy flats again so I wouldn't bother getting really amazing ones. I love shoes. They make me feel good. I love the nice long slim look they give me. Feeling very bummed about the lack of beautiful wedding heels. However, if I were being positive I'd say that FI is only 1/2 an inch or so taller than me so I guess it's good for me not to look like a giantess next to him.
I'm also noticing that I am less than pleased with the sleeve situation. I first thought they were cute. Now I think they look a bit wanky. Just something about not enough shoulder coverage and being so thin where they join the dress pisses me off. Also it leaves a lovely little triangle of space for people to admire my armpit fat. I don't feel very comfortable with my arms uncovered but I realise most wedding dresses are sleeveless (I have KP on my upper arms which looks like lots of little red bumps and all I can see is my ugly red arms.)
I was thinking I'd make little chiffon cap sleeves or something if I didn't like the sleeves that come with the dress but it just doen't look good. Poo.
I am also having a dress identity crisis; is this dress me? Why have I got something with sparkly boobs and a massive foofy train when I am so NOT a foofy person and do not at all like being the centre of attention. A dress like this is pretty far from the nice simple classy vision I had for our wedding. A nice cocktail dress would be much more me. FI thinks a floofy dress is me, the suppressed little girl in me that does want to be a foofy little princess
My mum thinks I'm being stupid and loves the dress as it is.
I don't know what I want now. I don't think I want a new dress, I just really want to love this dress. When I first put it on I really like it, but a few moments later I'm feeling pretty bummed out about all the little things that I think is wrong with it. I guess I would appreciate some honest opinions, even if those opinions are "That looks like sh*t on you, you look like a gigantic cross dressing oompa luumpa, go buy a new dress"
Please excuse my hair in this too- It's long and I've shoved it up into a clip so you can see the dress and because my mum thinks it needs to be off my shoulders.