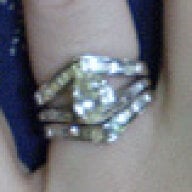 Joined

Feb 17, 2008
Messages

1,166
Yay! Sent about two weeks ago... I haven''t loaded the pics into my cpu till tonight.
The pocketfolds and all the cardstock/inserts and envelopes are from cardsandpockets.com. The green is called meadow, and the pink is watermelon.
I had been planning on going to staples/office max for the printing, but then I found out it''s 59 cents/page (I had 300 "pages" - they all come pre-cut), plus they have size restrictions, so I braved the home printer. It was definitely a PITA, though. My printer for some reason kept sucking the paper in crooked, so I had to sit there and guide EACH one into the printer so it would come out straight. They ended up printing really nice. I set the printer to "high quality", and bought high-quality ink, too.
We used glue-dots to mount the invites and invite mats into the pocketfolds. Major props for FI for helping me out on assembly. Then we ran out of glue dots, and I went to a local store to get some more. They didn''t have any, so I bought this:
http://www.keenzo.com/showproduct.asp?M=HENKEL&ID=1060979&ref=GB
It''s like permanant double-sided glue/tape. Worked just as well as the glue dots, but it''s a heck of a lot faster.
We also put 3 jewels in each invite. We bought them from Michaels. It was tedious work... They have adhesive on the backs, and FI couldn''t un-peel them b/c of his stubby fingers! Lol
The ribbon came from the florist. Mom works there. The owner let me take a bolt, which was nice. The color is called "wildflowers".
The flower on the front is actually "Bridal Confetti" I found at Michael''s. Link:
http://www.michaels.com/art/online/displayProductPage?productNum=wd0405&channelid
= There must be 400 of them in the container. I just added a larger jewel on those. Gotta figure out what to do with the leftovers, now.
Anywho, before I post pics, I wanna thank all you crafty PSers who served as major inspiration! And, I never knew the Scriptina font existed before PriceScope!!
First pic - Invite closed. Sorry it''s blurry