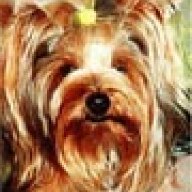 Joined

Jan 29, 2009
Messages

124
Well I didn''t have a loupe at the time so I took it to have it looked at and found out that it has a LOT of fractures. So wouldn''t that effect the light display? I think it was mounted so that it would minimize it but still....
Then on top of that (ok I''ll fess up - it''s an eBay ring) it was supposed to be a 1 carat and ended up being a 3/4 carat. He offered me $100.00 for the missing 1/4 carat

It''s going back in the morning. The seller wasn''t happy and started making noises about a 15% restocking fee after all his promises about his cheerful refund policy if not fully satisfied. I told him I''d be happy to file a chargeback with my bank in the morning and he changed his tune.
Well it was only $1,000. but still. It''s not a bad looking stone but not something I want to blow $1,000. on.
OTOH I received an unmounted Hastings triplet yesterday. Can I buy a elcheapo loupe and pop the old glass out and mount my triplet in there? They look kind of solid so I don''t know if that would work. Any ideas?