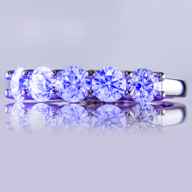 Joined

Sep 16, 2015
Messages

78
I made a list of criteria to meet my objective for a diamond for an engagement ring based on my research. Am I missing things? Am I asking too much? I being reasonable, unreasonable, obsessive...? And if you have suggestions for specific diamonds and the price I should be looking at, please pass them along!
Objective: To pay the least for a large-appearing round diamond that sparkles like crazy and will last forever without unsightly imperfections (when viewed without magnification) and no maintenance.
Shape: Round Brilliant, 57 facets
Cut: Ideal (AGS) or Excellent (GIA)
Carat: 1.85 to 2.1 (preferred: 2.0ct)
Clarity: VS1 to SI2
Color: G to I
Certificate: GIA or AGS
Must be:
conflict-free
eye-clean
very crisp / no haze that is eye-visible or significantly affects light performance
no inclusions that could compromise durability, integrity, or increase risk after decades of normal wear (e.g. feathers that reach the surface or near the girdle, cavities/chips near the girdle)
no inclusions that require cleaning or maintenance (e.g. cavities, chips, indented natural)
HCA score < 2.0
no "enhancements" or lasering
natural, not lab-grown
no visual degradation (e.g. haziness/lack of crispness or sharpness) due to fluorescence
Table: 54.0% to 57.0%
Depth: 61.0% to 62.0%.
Pavilion Angle: 40.6° to 41.0°
Crown Angle: 34.3° to 34.9°
Culet: Pointed (AGS) or None (GIA)
Girdle range: Thin to Slightly Thick
Fluorescence: None to Medium
Lesser importance:
Lower girdle facets: 75% to 78%
Star facets: 45% to 50% (40% to 58% may be okay)
Diameter: at least 8.0 mm
Diameter Ratio: 0.99-1.01
When available:
Symmetry (AGS): Excellent to Ideal
Polish (AGS): Very Good to Ideal