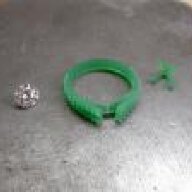 Joined

Aug 26, 2011
Messages

43
Hello all,
With all of you being such a big help in me getting a stone for my ERing - I thought that i would give back by making a post of my custom setting experience. After some research, I found a goldsmith that I wanted to use.
Local Toronto Artist Leif Benner has a small studio in the distillery district (his web page here
http://www.leifbenner.com/
). I sent him an e-mail and he was very quick to come back to me with a quote and time frame (about 4-6 weeks). What I am looking for is a Split Shank Pave set ring in platinum. Off the shelf I could not find one that I was 100% happy with so I went the custom route.
I visited Leif's shop on Saturday morning. There were a few small showcases with some custom pieces, but not very much. It seemed more than a workshop then a show room. He explained this was because the custom ring business of the wedding season has left him with very little time to make any pieces 'just because' - so anything he is making at the moment is already sold. Showing him the diamond, he immediately questioned "
Blue Nile
?" - "
James Allen
, actually" I replied. If I had spoken with him sooner, I would have most likely purchased my centre stone from him. He said that generally his prices for stones are just a little bit higher than those of
Blue Nile
- with the added bonus of him taking all liability. "If I make a little off the stone and a little of the setting, I'm happy" - he must be quite happy then, as he said that he expects 2011 to have just over 500 custom ring orders.
That said, the first thing he did with the stone was look at it through his microscope to make sure the serial from the GIA report matched the one on the stone (it did, thank goodness).
Generally he said he would discuss what type of design a person had in mind, then would make sketches. Since I came with a pretty good idea of what I wanted in mind, as well as some photo's of similar rings, we skipped the drawing stage. He said I should expect to see CAD drawings of the ring mid to late this week, and we would edit it/work on it from there.
Before I left the studio Leif was kind enough to show me some of the rings that are in process right now - from sketches to wax rings. He even explained the 'lost wax' method of making rings. I put a deposit down and left my stone in his care. I'm looking very forward to seeing CAD images and will post them as the project progresses!