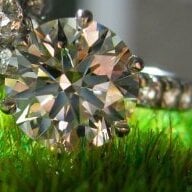 Joined

Nov 21, 2006
Messages

2,481
Hey! I''ve been slowly and cautiously browsing this site, more and more every day...and I''m finally posting! EEK! Here is my E-ring. I really don''t know much about all this...and I really wish I had known about this website before getting engaged.
Anyways, my boyfriend picked this out himself - and I love it!
Specs to come? I''ll have to get ''em off him...
In the meantime, enjoy the pics!
~fresh E-meat