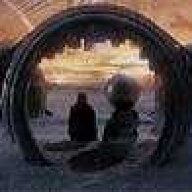 Joined

Dec 29, 2005
Messages

92
So I have three bridesmaids and they are wearing red halter-neck tea-length dresses from David''s Bridal at my wedding on 12/31/06 (eeek!). They asked me what they should do for jewelry. I told ''em I would select and order their jewelry for them, assured them I would pick something pretty and reuseable for them. I thought that black accented jewelry would look nice with the red dresses, and black is also plenty reuseable. So after doing a lot of browsing, I ordered these:
http://www.annabellagio.com/product/012578.shtml
with black pearls (that link shows the necklace in green). Also ordered the matching bracelet and earrings. Well, the jewelry just arrived and I am less than thrilled with it

. The black is more of a polished dark grey (think hematite) and the overall design just looks cheap and very unlike bridal jewelry. Now I''m afraid that my bridesmaids will hate them, and considering that my wedding is in five days I can''t devote much time to finding replacement jewelry.
What should I do? What would you do? Also any brutally honest feedback on my selection, from what you can tell in that link, would be appreciated. Anyone ordered from Anna Bellagio before?