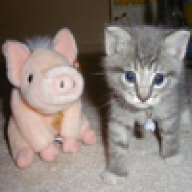 Joined

Nov 28, 2006
Messages

220
I looked out the window at 10am to see the fedex truck rolling down the street and got what I suspected was my very own diamond ring! I''ve wanted one so bad for 4 years and I''m so glad it''s here. Of course, I had to wait 3.5 hours until my husband called from work for permission to open the package, and it was torture. I read the accompanying papers and was happy to see
bluenile
bumped up the clarity to a vs1 and the carat from .96 to 1.02. The littlest things trill me. I opened up the box and the stones were much smaller than even I, champion of small diamonds, expected. I soon fell in love with it, and I love the look of the asscher, which is good because I''d never seen one in person before. I tried to be a RB girl, but it didn''t work out for me. How the asschers sparkle is much more pleasing to me than how a RB sparkles and I love the square shape. The only disappointing thing is that the prongs seem so thin and fragile, and I want this ring to last forever, and that the cutting patterns in the side stones are not as interesting because I suppose there''s less a cutter can do in a .25 stone. Other than that, I''m over the moon!
I told my husband I was just going to check it out and then he could present it to me when he gets home, but I can''t stop going back into the box!
Because I went 2K under budget with the ring and have some cash saved up from cat sitting, I was thinking of pairing it up with a skinny eternity band from facets, but I don''t want to damage the ring. Or maybe I''ll get a matching pendant. I''m so evil, already thinking months down the line to the next thing

.
I don''t know if I''ll be able to get shots. If so, it won''t be until the sun comes out here. I just wanted to share my excitement.